August is one of the best times of the year for events all over the Suffolk Coast and we have people from all walks of life who come to stay with us in our self-catered accommodation here at Mollett's Farm. One of the events that we have received a huge amount of positive feedback from our guests is Beach Bonkers.
Whether you're young or old everybody loves to find treasure. We all have a place in our heart and mind where we could cast our imaginations back to the swashbuckling days of old where finding a map with and X marks the spot could lead you on an adventure.
While we can't promise that you will find buried treasure and caskets of gems or gold doubloons, but we can promise that you will have an adventure of a time if you join one of the beachcombing walks with Beach Bonkers.
So take a read below and find out more, and if you want to be located right in the middle of the action, so that you are never far away from your next treasure hunt, then make sure to take a look at our luxury self-catered accommodation it's a great place to stash your loot whilst you write out that treasure map.
About Beach Bonkers
"I can't tell you what you're going to find but I do know that you will find something" says Kate Osborne, founder of Beach Bonkers, which takes people beachcombing on our special Suffolk shingle beaches. "This is one of the few real treasure hunts you can still do. And even better the beach is refreshed twice a day, every day, with each high tide casting up treasures anew."
Beach Bonkers today announces a full programme of beachcombing events for the summer holidays and on into the autumn with beachcombing workshops.
There will be beachcombing walks on Felixstowe, Landguard. Bawdsey and Sizewell beaches. Kate says "Felixstowe beach is great for finding both natural and man-made treasures, like sea glass, as well as fossils like sharks' teeth. On Sizewell beach, we will take a look at the plants and how they have adapted to live in the shingle. We may also find lumps of coralline crag which often contain shells and fossil corals that are millions of years old."
In addition to beachcombing walks, Beach Bonkers will be at various locations including Aldeburgh Carnival, Dunwich Heath & Beach National Trust, Southwold Boating Lake & Tearooms, Ipswich Museum and many Suffolk libraries.  At each location, there will be a tableful of beachcombing treasures, a mini shingle beach with clues to find the hidden treasures, and a giant beachcombing board game.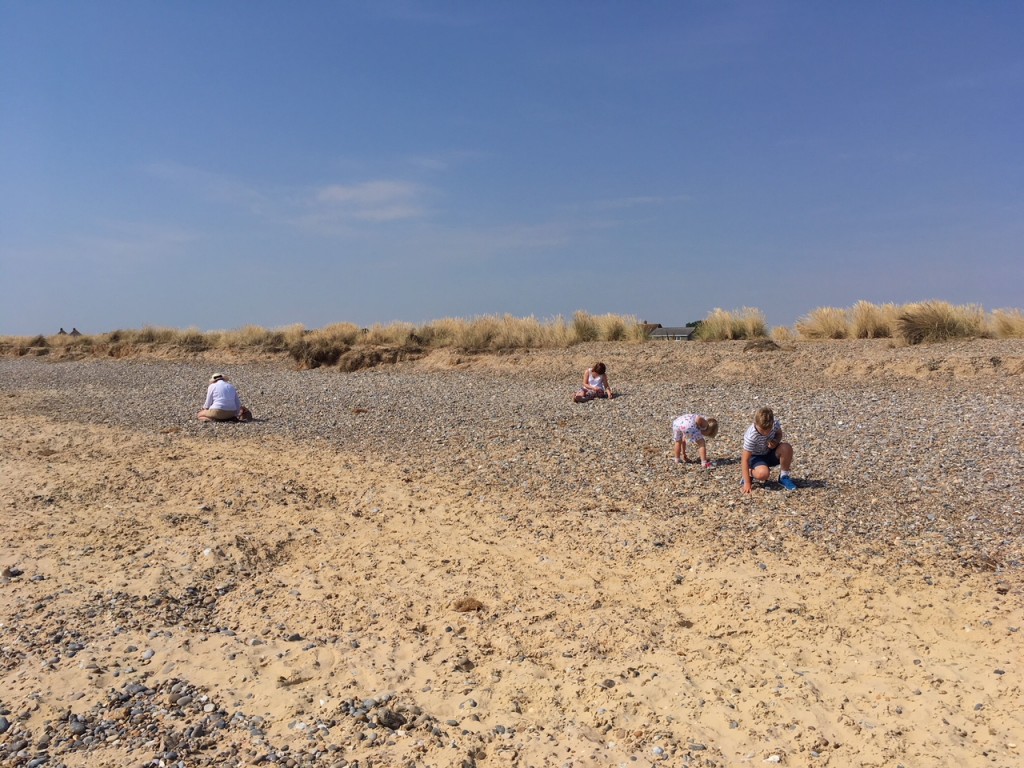 As well as the delight in discovering treasures, Beach Bonkers also raises awareness with the aim of changing the behaviour of visitors to Suffolk's shingle beaches. Vegetated shingle beach is a rare, and surprisingly fragile, habitat, found only in three places in the world. The plants that live there are adapted to conditions where there is no soil and very little fresh water. In places, the shingle can be up to 18 meters deep (eighteen times as long as an adult's outstretched arm) with plant roots reaching down to as much as two metres.
Kate says "People say they prefer sandy beaches, but then come on a beachcomb and see just how much treasure you can find on a shingle beach. This means they appreciate them more, and this, in turn, means they will look after them. Sadly, as well as the natural treasures we also find beach litter, mainly plastic. It doesn't just "wash up from the sea" – almost half of it is there because we, the public, have put it there".
Comments after the walks include "Brilliant", "Loved it", "Great day", "Amazing", "We will be back", "Fascinating", "Learned lots", "Thought-provoking". But for Kate the best comments I hear at the end of a walk are always 'I will never look at this beach the same way again' or 'I never knew there was so much here.'"
Some of Beach Bonkers' events in 2018 are supported by the Suffolk Secrets AONB fund and the Galloper Wind Farm Fund.
For a full list of all events go to the Beach Bonkers website or call 0751 255 7200. Join Beach Bonkers this summer and discover just how full of treasures our beaches are.