With beautiful, expansive views out over the stony grey North Sea, and an immaculate blue shingle beach dotted with boats and lined with fishing shacks, it's immediately clear to see that the cosy town of Aldeburgh is a cut above the rest when it comes to seaside resorts.
Located on the Suffolk Heritage Coast just 10 minutes away from our luxury self-catering accommodation, Aldeburgh has steered clear of the flashing lights and arcade machines of some of its peers and kept things simple with a touch of class. With the High Street having barely changed its stunning Georgian look in over a century Aldeburgh certainly has an independent spirit. This vibe attracts an eclectic mix of visitors and residents and many second-homers looking to escape from the rat race, soak up the sun, and gulp in great lungfuls of fresh sea air.
Aldeburgh is a fantastic day out for families young and old. Many visitors and residents revel in some of the finer things in life – which the High Street can certainly accommodate – and its touch of class is reflected perfectly in the quality of its thriving restaurants.
Today we will be giving you a rundown of our five favourite restaurants in Aldeburgh. We couldn't choose a top one, so you will have to figure that out yourselves!
Aldeburgh Fish & Chip Shop
Our list begins with a place that is so legendary that it could likely be the reason you are coming to Aldeburgh in the first place. The Aldeburgh Fish & Chip Shop isn't exactly a restaurant, but it had to make our list anyway because it produces what some would claim as the best fish and chips in the world. With traditional cooking methods that haven't changed in over 50 years the Aldeburgh Fish & Chip Shop has a tried, tested and proven formula for creating beautifully crisp batter that encases the freshest flaky fish, accompanied by pillow fluffy chips, all cooked using their technique of frying with beef dripping.
Aldeburgh fish and chips are so popular that they open every day! (well except Christmas Day, even then they are still asked to open) They serve until they sell out of the freshly caught fish bought that day, so make sure to arrive early. Just to warn you: expect to queue, but – trust us – it's worth the wait!
Make sure to check the Aldeburgh Fish & Chips website and if you want a more restaurant-style experience head on over to their sister restaurant The Golden Galleon.
Sea Spice
Located in the White Lion Hotel, Sea Spice is fast becoming a name on any food-lovers list; especially when looking for a treat for the senses that is slightly out of the norm. Taking inspiration from the ancient Spice Route and Aldeburgh's valuable role as a historic Tudor port, Sea Spice takes local Suffolk produce – such as Aldeburgh lobster or Sutton Hoo chicken – and perfectly combines them with classic Indian flavours that originated over 4,000 miles away.
Popular dishes that have taken Aldeburgh's diners by storm include East Suffolk Muntjac Vindaloo and Pan-seared Sea Bass Malabar Curry, all served alongside a fantastic wine list and – keeping up with the craft scene – an exquisite selection of craft beers.
They've become so popular that we would highly recommend booking a table, which you can even do via the Sea Spice website. For lovers of powerful flavours, you will not be disappointed.
Delphine's Diner
Hidden in plain sight on Aldeburgh's High Street is quirky little Delphine's Diner. This retro 50's style diner sits right at home with the vintage seaside vibes of Aldeburgh's main shopping street.
Slide into one of a handful of vintage style red booths and watch the chef swing into action as your order is prepared in the open kitchen. Their tasty selection of American classics such as burgers, hot dogs and open sandwiches are cooked to order and served in handmade buns from a local bakery. There's a great choice and plenty of veggie options. If you still have room, be sure to try one of Delphine's delicious shakes or an extravagant sundae, but – rest assured – you'll need a long stroll along the beach to walk off such a feast!
Delphine's Diner also hold regular events and have just opened another branch in Felixstowe, so be sure to check out their Facebook page for up to date information!
The Brudenell Hotel

For those looking to soak up the views of the sea you would be hard pressed to find a better restaurant than the Brudenell. With its floor-to-ceiling windows and wonderful outside terrace for al fresco dining, the Brudenell is just a stone's throw from Aldeburgh's expansive pebble beach (excuse the pun!). You cannot get much closer to the beach without actually standing on it. The relaxed, informal restaurant specialises in the freshest seafood and provides a wonderful setting for any occasion.
Their seasonal menu boasts a celebration of local Suffolk produce and is jam-packed with the tastiest delicacies. Suffolk oysters, native lobsters and a plentiful 'fruits de mer' often frequent the menu; ensuring you never miss out on the mouth-watering fresh seafood that Aldeburgh has to offer. Fancy a cheeky drink too? The Brudenell has a brilliant cocktail bar staffed by mixologists that will ensure your drink has flash and flare!
Make sure to check out their website here.
The Lighthouse Restaurant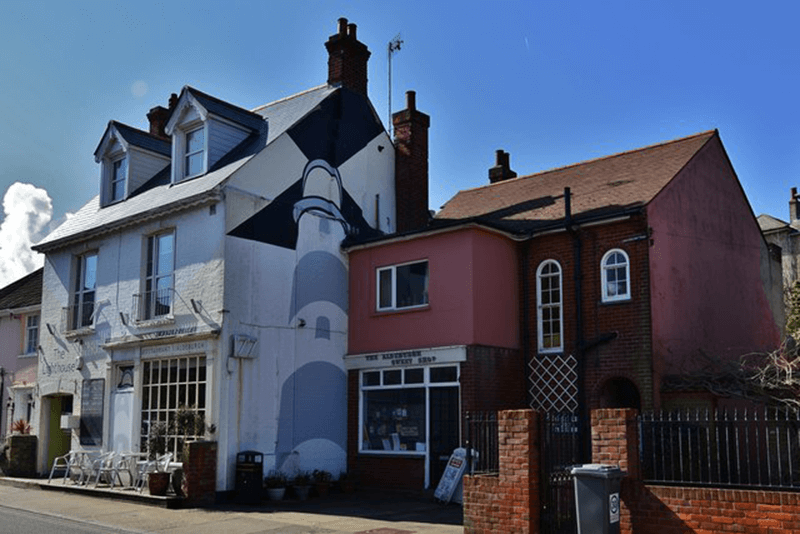 The Lighthouse Restaurant at Aldeburgh is a shining beacon to locals and visitors alike. Still going strong after 20 years in the business. What these guys don't know about good food is not worth knowing. You'll find The Lighthouse on the High Street, directly opposite Delphine's Diner. Just look out for the enormous lighthouse mural painted on the side of the building.
The food here is delicious and fresh and they have some great value deals on their lunch and 'pre-cinema' menus which you should not miss. Combinations such as pan-fried sea bass fillet, celeriac mash, spinach and chorizo; or Cheddar and sun-dried tomato macaroni with mozzarella rocket pesto are the kinds of flavours which ensure your first visit will not be your last! They also have an impressive wine list if you decide to make an evening of it.
If your mouth isn't watering already then check out The Lighthouse Restaurant's website.
So, there you have it. Our list of five of the must-try, best restaurants in Aldeburgh. After a long day of beach walking and sumptuous food scoffing, why not kick back, relax and get a great night's sleep in one of our cosy self-catering cottages or studios. Why not take a look at our other blog posts so you can plan your next Suffolk adventure?